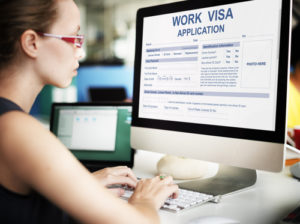 Two recent events have come to light that might affect your immigration matters. In this issue of our newsletter, we will cover the following:
1) H-1B Deadline Looming
2) H-1B Premium Processing Service Suspension
3) New Presidential Executive Order – Travel Ban 2.0
Urgent Reminder – There is Still Time to File for Your H-1B Visa
As stated in our previous newsletters, if you're thinking of filing for a cap-subject H-1B working visa, the time to do so is now!
Filing time is shrinking as we head towards the April 2017 lottery week from Monday, April 3rd, 2017 to Friday, April 7th, 2017. Demand for H-1B visas this year is expected to be high. 
H-1B Premium Processing Update 
Beginning on April 3rd, 2017, USCIS will indefinitely suspend the premium processing service for ALL H-1B petitions. With the premium processing service, petitioners and beneficiaries are able to pay an additional $1,225 to have a case processed within a fifteen-day span. Because of backlogs with current H-1B petitions (as much as one year), USCIS will suspend this service until further notice in hopes that they can properly resolve their current lengthy H-1B processing times. 
Please note that this premium processing service suspension does not affect any other visa category. 
Note: If your H-1B is set to expire within the next six months and you need to travel after the expiration date, your extension must be filed as soon as possible to avoid losing the premium processing option. Filing premium processing now would ensure that you reach 
For a select few cases, petitioners will still be allowed to request expedited processing if they meet certain criteria, which would be reviewed on a case-by-case basis. These requests are rarely granted. If you would like to see if you meet the criteria, please refer to this link. 
Should you have any questions, please contact Jeff Margolis or Scott Goldsmith.
Executive Order – Travel Ban Reinstated 
On March 6th, 2017, President Trump signed an executive order ("Protecting the Nation from Foreign Terrorist Entry into the United States") that re-enacts the previous travel ban with some changes to the language and extent of the ban. 
This order limits the extent of the travel ban, now excluding US visa holders from being barred entry into the United States. Citizens of Iran, Somalia, Sudan, Yemen, Syria, and Libya will now face a 90-day suspension of visa processing. Syrian refugees will face a 120-day ban from entry into the US.
The executive order will not go into effect until midnight on March 16th, 2017. News continues to develop as the executive branch works with the Department of Homeland Security over the next few weeks to coordinate the implementation of this executive order.
11 East 44th Street (between Fifth Avenue and Madison Avenue)
Suite 1505
New York, New York 10017
Phone: (212) 490-0900
Fax: (212) 490-0700
mail@margolislawfirm.com