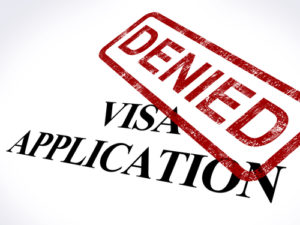 Yesterday, the Supreme Court reinstated a limited version of President Trump's travel ban that had been blocked by lower courts earlier this year. This executive order imposes a 90-day ban on travelers from Libya, Iran, Somalia, Sudan, Syria and Yemen. Additionally, all refugees are prohibited from entering the United States for 120 days. How will this ruling affect you, your employees, or your family? Read on.
This ruling supports Trump's temporary ban until October 2017 when the Court will review the case in further detail and make its final ruling. During the interim, the Trump Administration is expected to conduct a review of its vetting processes for visa applicants from the six countries. The State Department indicated Monday evening that the ban is to go into effect in 72 hours (June 29, Thursday).
The Court ruled that the ban "may not be enforced against foreign nationals who have a credible claim of a bona fide relationship with a person or entity in the United States." However, all other foreign nationals from the six countries can be subject to the provisions of the executive order. This means that persons with familial, business, or other relationships in the United States will not be prohibited from entering the country. Similarly, individuals enrolled in an American university or those traveling with a work visa should not be affected.
Having a green card, student visa, or work visa, as well as being a dual-national citizen, appears to satisfy the "bona fide relationship" clause. However, Trump's revised travel ban (March 2017) stated that dual nationals must be traveling on a passport issued by a non-designated country. Presently, it appears that the ruling mainly affects persons with tourist visas or those seeking visas without any strong ties in the United States.
The "bona fide relationship" remains to be clarified, but the ruling stated that "the relationship must be formal, documented and formed in the ordinary course, not for the purpose of evading" the ban. For example, a nonprofit organization cannot add foreign nationals in the prohibited countries to their client list and claim they are being injured by the restrictions in place.
Thus far, it is not clear who will determine whether individuals have what constitutes a bona fide relationship. Although the ban appears limited in scope, we recommend that travelers with connections to the six designated countries carry extensive documentation supporting their relations to the U.S.
We will update you as news regarding the implications and execution of the Supreme Court's ruling continue to develop in the following weeks. Should you have any specific concerns, please do not hesitate to contact The Margolis Law Firm.
11 East 44th Street (between Fifth Avenue and Madison Avenue)
Suite 1505
New York, New York 10017
Phone: (212) 490-0900
Fax: (212) 490-0700
mail@margolislawfirm.com