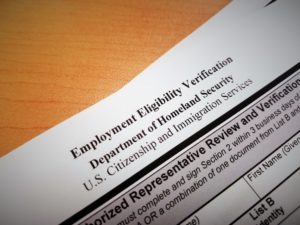 Businesses should continue to follow the recommended practice for Form I-9 Compliance. Employers should continue to monitor the expiration of their employee's temporary work permits, including the employment authorization documents (EAD). DACA beneficiaries who have valid EAD cards are allowed to work until the expiration date listed on the front of their cards. Moreover, if a DACA beneficiary's work authorization expires on or before March 5, 2018, the employer should consider applying for the individual's work authorization extension. If the work authorization expires after March 5, 2018, then there is no possibility of an extension.
According to the Society for Human Resource Managers, it is important to note that employers may face discrimination claims if they rescind the employment of DACA recipients with currently valid work permits. DACA beneficiaries should continue to be treated in line with all other employees. If an employer does employ a DACA beneficiary, then the employer must ensure that they do not employ the beneficiary after the expiration of their work permit as both parties may face legal challenges from the government.
Furthermore, it is important for employers to prepare for any operational risks due to the disruption from losing valuable employees. Many sides are now placing pressure on the federal government to create a solution, and a close eye will be kept on the proposals that arise from Congress.