Trump's and Immigration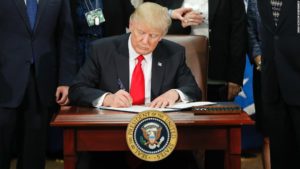 New administrations tend to devote their attention to broad-stroke immigration policy. However, in less than a year, President Trump has made the subject of foreign nationals entering (and now residing in) the United States his micro-managed priority. In this span of time, he has proposed two travel bans, increased vetting procedures, and most recently, supported a bill favoring a merit-based system of business immigration while curtailing the ability of family members to come to the US.
The rationale behind the more restrictive attitude towards immigration cites the need to increase national security as well as to protect American jobs. Although only minimal legal change has made it far enough through Congress to be implemented, employers in the architectural, construction, and development sector should be aware of the implications of the Trump presidency on their employees and business operations.
Back in February, in response to Trump's first travel ban, the American Institute of Architects (AIA) released a statement expressing concern about the restrictive and country-specific immigration policies. The AIA referenced not only concerns over the policy's fairness, but also about the negative impact on business of blocking a large number of potential employees from coming to the United States. The statement indicated that "the entire international building development, design and construction sector relies heavily on reciprocal treatment and on the fair and ethical ability to travel, reside and work across national boundaries."
Since then, the Supreme Court has re-instated a limited, and arguably less severe, version of President Trump's travel ban, as it specifically targets immigrants from Libya, Iran, Somalia, Sudan, Syria and Yemen who do not have close familial or business relations in the United States.  Additionally, all refugees are prohibited from entering the country for 120 days. The travel ban appears to exclude individuals coming to the United States to work in American companies, easing the pressure on the industry's concern over business consequences. Yet, the most recent ban should not be taken lightly: in order to make sure that candidates are not only applying for work visas to get around the ban, the government may in fact increase its review of petitions and applications from the six countries listed above.
Beyond travel bans, increased scrutiny overall in the immigration process is something that should be of concern to the A&E community. For example, The USCIS announced in late March that federal officials will be tightening rules for programmers seeking H-1B visas. Petitioners are now to provide additional evidence of complex or specialized skills required for the job, for which employers must be paying a starting wage that reflects a unique position and not an entry level job. In other words, Donald Trump's government is no longer considering computer programmers to be highly skilled "specialty occupation" employees. Not only do visa refusals threaten to narrow the technical applicant pool that is a key factor in architectural and engineering companies today, but they also beg the question of what visa review may look like for other professions, in the future. Since H-1B visas are one of the most popular visas for architects and engineers, companies should stay on top of any new developments in H-1B policies. Here, liaising with experienced immigration counsel is a must.
The memo from the USCIS also stated that in an effort to target H-1B visa abuse and fraud, it would increase the number of work-site visits and inspections. The USCIS described a targeted approach, in which it will focus on cases where it cannot validate employer's basic business information through commercially available data, employers are H-1B dependent (they have a high ratio of H-1B workers as compared to U.S. workers, as defined by statute), or employers are petitioning for H-1B workers who work off-site at another company or organization's location. The policy change is in line with Trump's vow to triple the number of Immigration and Customs Enforcement agents, which translates to more audits.  Although the increased visits are meant to identify employers who are abusing the system-not to target nonimmigrant employees- architectural firms should be aware of the increased inspections and overall critical attitude towards H-1B visas that is emerging. As the old expression goes, clients should be prepared.
Companies who rely heavily on architects and engineers who are NAFTA Professionals from Canada and Mexico should be alert as well. Although President Trump has not specifically discussed these TN visa applicants, his campaign repeatedly criticized the NAFTA agreement, which along with creating a trade bloc, introduced this new immigration visa category for all three countries. It is not clear whether workers on TN visas will be impacted in the near future. However, considering the President's dedication to carrying out his campaign promises, employers should not overlook the possibility this will happen.
Lastly, one of the most recent discussions regarding the new administration and immigration has revolved around Trump's support of a Republican bill that would decrease U.S. immigration by half. The plan targets mainly family-based immigration, but it also proposes a new point-based system for employment based visas, with the 140,000 available visas prioritized for individuals who score highest. Points are to be awarded based on criteria such as age, education, and ability to speak English. Presently, it appears unlikely that the bill will pass. However, history has shown that bills can be tweaked and modified: it is merely the existence of the idea that requires contemplation.
What Employers Should Do Now
The political agenda for immigration is volatile and difficult to predict. The best we can do is to stay on top of developments and be prepared for whatever may unfold in the upcoming future. One great resource for firms to do this includes the Society of Human Resource Management (SHRM). In the meantime, employers should keep open connections with their staff and evaluate alternative options under U.S. immigration law as well as fall back options for employment.  I-9's should be accurate and up-to date  and H-1B files available for inspection.For example, an international firm should take the time to evaluate its other foreign offices and determine the countries whose immigration laws may be more hospitable.  Companies should also consider developing new corporate policies for sponsorship of foreign workers adversely affected by Trump's immigration policy. In fact, for certain valuable employees, sponsorship for other immigration benefits, such as a green card, may just be the immunization necessary to protect businesses from the consequences of Trump's negative immigration policies.